Free bird house plans
>
Free building bird house plans
>
Phoebe bird house plan
---
Phoebe bird house plan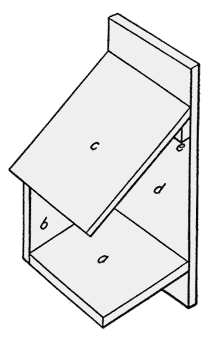 Phoebes like to nest about buildings, and a simple shelf under the - roof of a porch or shed is all they require. If, however, it is desirable to have them stay outside, the shelf must be provided with a roof.
Figure 8 shows a shelf shielded from the weather by one wall and a roof. This shelf if placed high under the eaves of a two-story building may attract barn swallows; phoebes and robins also are likely to build upon it if it is not less than 8 feet from theground.
In some cases it will be advisable to leave only one side open.